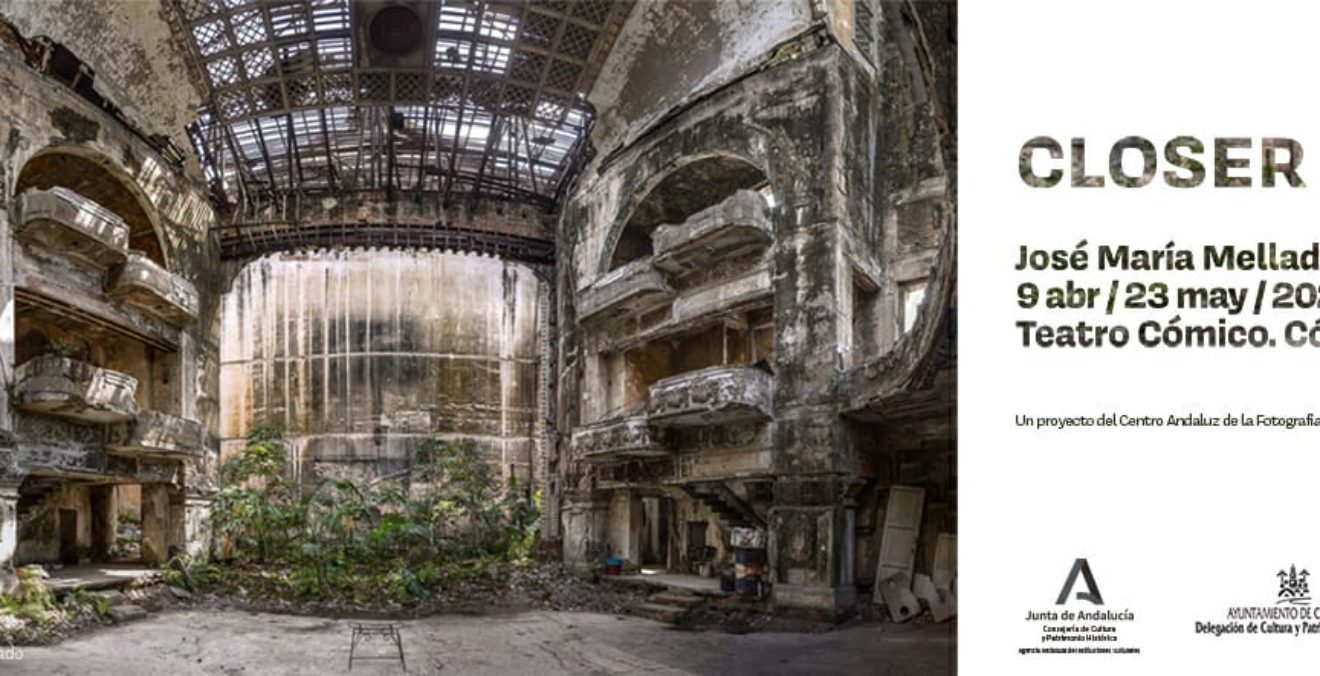 CLOSER by José María Mellado arrives in Córdoba!
On April 9th the exhibition "CLOSER" by José María Mellado opened its doors in the newly opened Teatro Cómico de Córdoba. A new itinerant of the exhibition that joins this time to the exhibition program of the 17th edition of the Biennial of Photography of Córdoba "Images Inmunes", organized by the Andalusian Center of Photography that can be visited until May 23.
CLOSER, curated by Pablo Juliá, takes as a starting point the landscape, which has been masterfully documented in the work of José María Mellado throughout his artistic production. The proposal for the Teatro Cómico de Córdoba, however, takes us through other defeaters and invites us to delv into a composition of the most intimate and psychological image with which the author transgresses simple representation.
En palabras del comisario de la exposición, Pablo Juliá, la obra de Mellado "cuidada en el detalle, nos habla de las relaciones del hombre, o su huella, con el paisaje que habita…". Este es precisamente el leitmotiv que aúna las fotografías de esta muestra. Las piezas seleccionadas, en esta ocasión, realizan un viaje enigmático y transitan por escenarios donde ha quedado plasmada, de una u otra manera, la huella del hombre.
With a refined photographic technique, playing with compositions and framing, and also including high quality photographs made with mobile (in tune with its most recent publications), 35 images of different cities, landscapes and enclaves are presented where the concept of absence/presence is spinning the narrative thread of the exhibition. CLOSER thus unfolds a whole subjective and sometimes alienating landscape that often appears to question our actions in space; enigmatic scenes and extreme subtlety that – quasi hyperrealistic paintings – make us vibrate emotionally, until those moments when human presence becomes dormant in waste, even though physically it is not observed.
For Mellado, in CLOSER, the landscape becomes an excuse to assume other topics that are already constant within its creation, but this time put to dialogue from another look, from the inside of the being. The nude, the abandonment, the loneliness, the fleetingness of the instant, life in the broadest sense of the word, are peeked into each of the images.
One of the pieces that synthesizes this thesis is precisely "Teatro Campoamor en ruinas", an instant taken in Havana, which arrives at the Teatro Cómico de Córdoba in a special production. The proposal that José María Mellado has conceived specifically for this space, appropriates the same concept of theater to overlay, to this, the image of one of the most enigmatic scenarios of the island of Cuba. The ruined photograph of Campoamor establishes a thoughtful dialogue with space and other pieces questioning, between clues, not only what has once been the result of that imprint of man, but the immanent capacity of nature to regain its medium and give life to what seems to have come to an end.
Image gallery
Media appearances
– El día de Córdoba (09 Abril, 2021)
La Bienal de Fotografía de Córdoba muestra el alma escondida de los lugares insólitos retratados por José María Mellado en 'Closer' (eldiadecordoba.es)
Un recorrido por la exposición 'Closer', de José María Mellado (eldiadecordoba.es)
– Diario de Córdoba (09 Abril, 2021)
José María Mellado ahonda en el perfil más íntimo del paisaje – Diario Córdoba (diariocordoba.com)
– Europa Press (09 Abril, 2021)
El Centro Andaluz de la Fotografía participa en la bienal de Córdoba con la exposición 'Closer', de José María Mellado (europapress.es)
– Cordópolis (09 Abril, 2021)
'Closer': el rostro del paisaje urbano, según José María Mellado (eldiario.es)
– ABC (09 Abril, 2021)
Bienal de la Fotografía de Córdoba | 'Shooting', huella del hombre en el paisaje de José María Mellado (abc.es)
– Córdoba Buenas Noticias (09 Abril, 2021)
La exposición 'Closer', de José María Mellado participará en la XVII Bienal Internacional de Fotografía de Córdoba (cordobabn.com)
– Sierra de Cádiz Informa(09 Abril, 2021)
'Closer': el rostro del paisaje urbano, según José María Mellado (sierradecadizinforma.es)
– Gente Digital (Córdoba, 9 de abril de 2021)
El Centro Andaluz de la Fotografía participa en la bienal con la exposición 'Closer', de José María Mellado (gentedigital.es)
– Diario de Almería (10 Abril, 2021)
Las fotografías de José María Mellado llegan al Teatro Cómico de Córdoba (diariodealmeria.es)
– Ideal (10 Abril, 2021)
Cultura en Almería | El CAF participa en la XVII Bienal Internacional de Córdoba con 'Closer', de José María Mellado | Ideal
– Córdoba Hoy (11 Abril, 2021)
"Reivindico el móvil como herramienta para hacer una fotografía que puede estar en una exposición" (cordobahoy.es)